Workshops RINCON April 15th 2023

Building a dungeon from XPS foam
Craftingroom 12:00 - 13:30
This is all about how you build a dungeon from XPS foam quick, easy and epic!
And the instructor nobody less then the great Gerard from ShiftingLands. His epic builds are famous in the trrain world, so come and learn from the best!
Cost: 10€
Gerard from Shiftinglands
Building your own dungeon & what you build, you take home!

Welcome to "Shifting Lands", a site dedicated to the 25mm world of fantasy. You can find some ideas on making terrain and buildings for your gaming table and some usefull "Tutorials" as well.
Gerard: "Never been a true tabletop fanatic or miniature collector. I do however get a kick out of building scenery and exploring the possibilities of a wide range of building materials. 
Currently I am working with Styrodur and give workshops to help people on their way in to this wonderful hobby."
Gerard also published "the Book: Tabletop terrain from XPS foam: Buildings"
Techniques, tutorials and tons of tips: This is your ultimate guide for creating superb tabletop buildings! In 5 detailed chapters you'll learn everything you need to build amazing buildings for your tabletop and wargaming tables. The 'beating heart' of this book are 14 rich tutorials with clear step-by-step instructions to create stunning buildings: fantasy, sci-fi, steampunk, historical, wild west, ancient/ruined and more. Every popular tabletop genre will be honored with at least one building. And: You'll find tips that work fast and easy to combine and modify each building for putting a maximum of variety and individuality on your own gaming board.
https://www.shiftinglands.com/
Workshoproom 1 15:00 - 16:00
Creating maps with mapmaking software is an amazing hobby to have, and it's always good to be prepared as a DM. However sometimes you just simply don't have the time, or resources to create your maps in advance. Or sometimes your players are surprising you by going into unexpected directions, maybe you just simply love the thrill of making up the story as you go along! 
In any case, it's good to have some skills with pen and paper, but not everyone can be expected to draw a clear battle map within minutes. During this workshop I'll explain some simple shapes, and how to make use of a pre-made map legend. It's not going to be only for beginner DM's, I'll also have a section where we cover some of the more complex structures you'd like to see me draw, or how I would go about creating those on the spot.
For those who are interested in who I am, and what I do; I work as an artist for Inkarnate for over 3 years now, and I've been part of the team responsible for creating the Fantasy Battlemap style (as well as also having worked on the other styles). I also create my own battle-maps with inkarnate, which you can find on the patreon I run together with my best friend Najade. 
https://www.patreon.com/thedungeonmadames
I'll cover the following subjects, and everyone gets to bring their maps home afterwards! 
– What materials should you use?
– Map legends
– Visual language
– How to draw … (Q&A)
– Tips on how to draw awesome encounter maps 
This workshop will be run in English and/or Dutch, depending on who attends!
My name is Cynthia Campbell, I'm a born and raised Dutchie, and have been playing ttrpgs for over a decade now. I started with pathfinder, and soon found my way to 5e edition, and have dabbled in other ttrpg's with one-shots and one-offs on occasion. I work as an artist for Inkarnate, a software program that allows anyone to create their fantasy maps, from world-maps, regional maps, city-maps and battle-maps. 
I also have a patreon on the side with my best friend Najade, called "The Dungeon Madames", where we share our maps that we create for our games. I currently run a Curse of Strand campaign and she runs a Ghosts of Saltmarsh Campaign. Because one can never have enough hobbies, we are also part of Direrolls, a twitch channel that we have created with our friends where we stream some of our games online. I DM a Tal-dorei based game in which Najade plays, and she DM's her Ghosts of Saltmarsh game on there, where I appear as a guest player on occasion. The channel is even nearing it's 3 year anniversary now!
Je avontuur op smaak brengen!
Workshoproom 2 16:00 - 17:00
O
rlando van Project Epos zal in deze workshop het nut van 'reflavouring' benadrukken en deelnemers alle tools en handigheden aangeven om het zelf 'net
even anders' te doen. 
Aan de hand van een werkblad gebaseerd op het boek "De dieptes van Dunglorrin" zal hij samen met deelnemers een willekeurig avontuur in elkaar zetten om deze vervolgens aan te passen naar smaak of stijl. 
Van willekeurige uitkomsten maakt hij met de deelnemers een kloppend verhaal en legt hij vervolgens uit hoe je dit met andere willekeurige tabellen of uitkomsten ook zo kunt doen.
Deze workshop is ideaal voor (beginnende) vertellers die op zoek zijn naar mogelijkheden om in een handomdraai een avontuur in elkaar te zetten en deze dusdanig aan te passen dat het past in hun eigen verhaal.
Wij zijn Project Epos en zetten ons in om fantasie weer een plek te geven in onze samenleving. We doen dit door het produceren en uitgeven van spannende avonturen voor roleplaying games en het maken van onze eigen systemen. Klaar om jouw legende te beginnen? Ontdek dan meer op: 
https://projectepos.nl/5e/
Miniature Painting with Mattie
Craftingroom 15:30 - 17:00
The workshop will be about painting miniatures!
Everyone will get a Hero model and Mattie and his helpers will walk everyone through paining it. 
They will give you some tips and tricks on how to get the best results. At the end everyone will leave with what they have painted. 
Cost: 10€
Painting your own miniature with tips & tricks from the pro's
Fantasy Prints sells 3D and 2D miniatures, terrain, maps, dice towers, and other DM tools.
Workshoproom 1 10:00 - 12:00
In this chaotic workshop, you will get the chance to learn from one another's DM styles quickly! We will start off with some simple warm up questions, but soon enough, the real workshop begins:
One campaign will be made ánd played in this workshop which is created by áll participants. The idea is that four groups of four people will be made so that they can prepare different parts of this campaign. 
The story is as follows: There is someone in a tower that needs to be saved from a dragon. What the tower is like, the dragon, the someone you have to save? Completely up to you! 
The story consists of four parts:
– Arrival at the tower
– Climbing the tower
– Meeting with the captured
– Escape!
This means that the later parts will have to improvise more based on the earlier parts!
After the campaign is made, the groups will mingle, so that every party will have one of each group. Then every person will DM a part of the campaign in order.
With this workshop you will be able to learn quickly from each other while building your part together ánd DMing the part you built together! And if you are not a DM yet, might be a good way to see if you will like it 😉
Everything you need will be provided in this workshop, including player characters. If you want to prepare beforehand, you are more than welcome to bring you own input!
DM Knowledge Exchange. A workshop where the participants can learn very quickly from one another! You will not be required to be a DM yourself.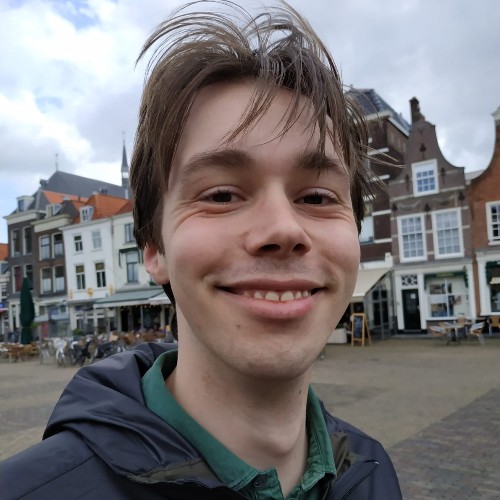 About Luuk
Greetings! I am Luuk, a data advisor from Roosendaal that has an enormous passion for DnD! Six years ago during my masters I got in touch with Pathfinder, and it showed me the creative potential of TTRPGs. First thing I did was ask the first NPC we found any question I could think of. Thát creative aspect alone already made me very excited. It did not take me long until I decided to DM myself and have enjoyed character building, world building, training new DMs and seeing their wonderful worlds. Now I have switched over to 5e due to it's ease for DMing and introducing new players. 
Both my job and DMing has taught me how to create a platform for people to share their creativity. We all have unique perspectives from which we can learn and I am excited to find more about yours!
The Story of Storytelling
Workshoproom 1 13:00 - 14:00
My workshop that I named: "The story of Storytelling" is about how to tell a dnd story line/ ark, the way to prep for NPCs and bad guys for beginning and experienced DMs.
But I will also talk about player influence in story telling, about their backstory and how they can improve the story they wish to tell with their character. 
I want to make it so all players and DMs can create great worlds for their games to let them enjoy the world and their characters.
I've played dnd for many years now and I've been a dm for a lot of that. My storytelling ability has been something I'm proud of. I create emotion and live into my NPCs with telling their story.
Everybody is welcome to my workshop, If you wanna sit in and listen to how good story can be made.
Or DMs/ players looking for inspiration or to rekindle theire flaming love for dnd.
Again all are welcome.
The workshop will benefit both players and DMs experienced, new to the game and everything in between. 
About Ace
Passionate DM with a mission to let DMs share their knowledge!
Craftingroom 10:00 - 12:00 & 13:30 - 15:30
This workshop is for everyone who wants to get their hands dirty on making some dungeon tiles, terrain, or interior. 
From hallways to tables filled with food, we can make it.
I will show you some simple tricks and guide you through the process, to show how easy and fun it is to make.
It's for DMs who want to liven up their gaming table or other DnD players who really like the crafting side of the hobby.
I myself have been crafting and playing for years. It's all my own hobby and I just love sharing this with other enthousiasts.
Free walk in, No booking needed!
This workshop is for everyone who wants to get their hands dirty on making some dungeon tiles, terrain, or interior
Rapid Map Drawing for DnD & other TTRPG's
Workshoproom 2 10:00 - 11:00
During this workshop you'll learn how to draw simple maps and map elements like walls, beds, treasure, etc to populate your maps with. You will explore the tricks and techniques to do this at the table, while running the game. 
Do note, that this is NOT map design, but rather the skillset to draw an existing map in front of your players bit by bit, as they explore the map. You can also use it to prepare full maps, for for example outside area's. 
What you will learn/practice: 
·        You will practice with basic drawing techniques that allow you to create simple images quickly.
·        You'll start building your own visual library of icons that you'll use over and over.
·        You'll learn how to quickly draw terrain features like roads, bushes, walls and cliffs.
·        After the workshop you'll have a basic understanding of what to prepare, so that you can draw with ease during your session. And also, what not to draw, because pen stroke takes time when you are running a session.

·         Every tool or technique learned in this way, can also be used to draw maps by hand before the session, which you can cover with dark paper and reveal as your party progressess through the map.  
This workshop is for game masters who want to learn how to draw simple  map elements quickly during sessions. And players who love to add visuals to their session notes are welcome too.
My name is Jurjen Knoester, I live in Biddinghuizen and I want to give this workshop because I'm a very passionate GM. I use these drawing skills myself during our live sessions.
During my day-job I run SteadyTeams, an organisation that specialises in team and leadership development.
In that role I also use a lot of graphic facilitation, and we teach these skills to many different people. You can find my organisation at
www.steadyteams.com.
Workshoproom 2 13:00 - 15:00 Dutch/English
DUTCH
De té sterke NPC heeft iets wat van je party en jou is. Combat is verre van verstandig. Jij speelt een chaotic neutral wizard met een level 3 fireball in je arsenaal. Wat doe je?
Soms komt het voor dat de belangen van jou als speler of acteur anders zijn dan die van het character dat je speelt. Hoe zorg je er voor dat je dicht bij je character blijft en vanuit daar blijft reageren?
In de workshop ''level-up your rollplay''. Behandelen we een aantal speerpunten van wat het betekend een personage te spelen: spelconcentratie, tekstbehandeling, samenspel. Deze speerpunten passen we uiteindelijk in de praktijk toe, doormiddel van een theaterscene. Na de workshop verlaat je de ruimte met een set nieuwe theater skills en inspiratie voor je volgende sessie.
Neem als voorbereiding een ingevulde charactersheet mee van het character dat je op dit moment speelt, maak een nieuwe, of kom helemaal blanco, het is aan jou. Dit alles onder begeleiding van een afgestudeerde docent theater en ervaren Dungeon Master, beschikbaar voor iedere rollplaying game.
---
ENGLISH
The too-strong NPC has something that belongs to your party and you. Combat is far from wise. You play a chaotic neutral wizard with a level 3 fireball in your arsenal. What do you do?
Sometimes it happens that the interests of you as a player or actor are different from those of the character you are playing. How do you make sure you stay close to your character and continue to react from there?
In the workshop "level-up your rollplay". We cover a number of focal points of what it means to play a character: game concentration, text handling, teamwork. We will eventually put these key points into practice through a theatre scene. After the workshop, you will leave the room with a set of new theatre skills and inspiration for your next session.
As preparation, bring a completed character sheet of the character you are currently playing, make a new one, or come completely blank, it's up to you. All under the guidance of a graduate theatre teacher and experienced Dungeon Master, available for any roleplaying game.
About
Hallo,
Mijn naam is Stan Ligtenberg. Ik ben 27 jaar oud en ben afgestudeerd als ''Docent Theater/theatermaker''. Na mijn MBO artiestenopleiding met als uitstroomprofiel 'acteur' heb ik me gespecialiseerd als docent en theatermaker aan de Hogeschool van de Kunsten Utrecht (HKU). Na mijn afstuderen in 2019 heb ik veel als freelancer gewerkt en veel bijzondere plekken, organisaties en mensen leren kennen. Op dit moment geef ik drama les op een middelbare school en probeer ik mezelf te verwennen met toffe regieprojecten of workshops.
Naast docent en theatermaker ben ik ook een groot liefhebber van Dungeons and Dragons. Ik speel nu zo'n 3,5 jaar en ben Dungeon Master sinds 1,5 jaar. Wat ik zo geweldig vindt aan deze ervaring is de variatie en het feit dat het coöperatief is. Je speelt het samen met je vrienden. Zelfs de DM staat aan jouw kant, als het goed is. Samen zorg je ervoor dat de sessie een spannende gevarieerde ervaring wordt waarin iedereen tot zijn/haar/diens recht komt.
De crossover tussen theater/rollenspel/ improvisatie en het '' RPG gamen'' maakt het voor mij een ideaal concept. Zeker als je het met je vrienden kan spelen met heen hapje en een drankje!