Live Games at RINCON April 15th, 2023

GM Tony - Project Angirilur
Live gameroom 1 10:00 - 13:00
System: DnD 5e
Max players: 6
Newbie friendly: Yes
Language: English
Preparation: Premade character will be offered
Between the Dragon Teeth Mountains and the Remorhaz Spines lies a valley so lush and fertile that men think it was blessed by the Mother herself. 
But not just humans, elves or dwarves live in this valley,  also fey and nature monstrosities, grown to incredible size by the sheer magical nature of this place. 
You're part of a group of recruits that want to become full Golden Mountaineers and have been sent off to deal with a monster of gigantic proportions. But is it that simple?
This game is a generic high level fantasy one-shot, perfect for beginners who know a bit about D&D, but maybe have never played before. 
There will be 4 to 6 players with level 5 characters. Players can bring their own level 5 characters, with the condition that only official publications of Wizards of the coast are accepted ( so Players Handbook, Volo, Tasha, but not setting specific like Eberron or Taldorei ).
Cursed River of Shispyria
Live gameroom 2 10:00 - 13:00
System: DnD 5e HOMEBREW
Max players: 6
Newbie friendly: Yes
Language: English

Mysteries surround the river of the small Village of Shispyria. Adventurers enter a gloomy sad starved out village where something seems to be wrong with the river running through the small village.
The adventurers are tasked with finding out what's wrong with the river and finding a solution to it.
This will be a one-shot where the real basic D&D will be played a little simplified but a great bridge towards the real deal of 5th edition.
GM Arjen Poutsma - Restitution
Live gameroom 1 10:00 - 13:00
System: Call of Cthulhu
Max players: 5
Newbie friendly: Yes (for Call of Cthulhu)
Language: English OR Dutch

Restitution is a modern-day Call of Cthulhu scenario set in the Dutch Hedwige Polder. 
Reclaimed from the sea more than a century ago, this polder is now designated to be flooded again, as compensation for the impact of deepening the Scheldt. 
In the scenario, the investigators will discover the deep secrets that lie hidden beneath this land, and engage in an ages-old conflict that haunts it.
GM Mark - The Lugon Project
Live gameroom 1 14:00 - 17:00
System: Pathfinder 1e
Max players: 5
Newbie friendly: Basic Pathfinder knowledge required
Language: English

Step into the unique world of Lugon as you take up the mantle of a group of unique adventurers of equally unique races. A wholly strange world is within your grasp, eagerly waiting for you to explore it.
You are one of a group of adventurers visiting the 'Veilnight Festival', a festival of mysterious origins that is held every year. However, this year is slightly different. There are rumours abound of people disappearing, the laughter of a wicked lady audible in the night as the festival approaches.

What is going on? Are you going to have fun or are you going to get to the bottom of the mystery? The choice is yours.

'Shards and Traditions' is a one-shot for four level 1 characters in the Pathfinder 1E system. Premade characters will be available at the game. Due to the unique Lugon races and classes in play, it's not possible to bring your own level 1 character.

However, the one-shot is very beginner friendly, being flexible in content depending on the amount of experience with the systems amongst the players present. There is not a lot of Pathfinder knowledge needed, only the basics.
Ontsnapping van de Zilveren Wanhoop
Live gameroom 1 14:00 - 17:00
System: DnD 5e
Max players: 6
Newbie friendly: Yes
Language: DUTCH (NEDERLANDS)
Preparation: Bouw een lvl 5 character
 Deze one-shot speelt zich af in de diepste krochten van de notoire gevangenis "De Zilveren Wanhoop", waar de zwaarste criminelen de rest van hun leven uitzitten onder toeziend oog van opzichter Rufus Zilverknoop.
Nooit eerder is het iemand gelukt om te ontsnappen, maar dat weerhoudt de ambitieuze half-orc Arne Knokkelpap en zijn compagnons er niet van een gewaagde poging te plannen. 
De opties variëren van een ongeziene ontsnapping tot het orkestreren van een algehele gevangenisopstand, maar één ding is zeker: wil Arne ooit weer de warmte van de zon op zijn gezicht voelen heeft hij alle hulp nodig die hij kan krijgen.
Ik schrijf de one-shot zelf. Dat wil zeggen: ik verzamel 'n boel dingen online die ik dope vind en probeer ze mee te nemen in mijn eigen verhaal. Het wordt dus sowieso iets wat jullie nooit eerder gespeeld hebben.
Over jullie als spelers: 
Ik verwacht van mijn spelers dat ze een lvl. 5 character maken. Elke race of class vind ik acceptabel zolang het in een officieel boek staat.
Dat gezegd hebbende: mijn voorkeur gaat uit naar spelers die een character bouwen naar aanleiding van een interessante persoonlijkheid.  Het is natuurlijk geen probleem om 'n sterke character te maken, maar zorg dat je build niet het énige is wat je character definieert. In plaats daarvan heb ik liever iemand die heeft nagedacht over wie hun personage precies is. Hoe klinken ze? Wat voor persoonlijkheid hebben ze? Waar zijn ze bang voor? Wat drijft ze om te ontsnappen? Om wat voor misdaad zijn ze hier beland? Zijn ze ten onrechte opgesloten?  Of zijn ze juist knettergek en is het inderdaad beter voor de wereld als ze nooit vrij komen? Alles daar tussenin vind ik helemaal leuk! 
Originaliteit zou ik dus fantastisch vinden, maar zolang je niet actief probeert het spel te breken ga ik vermoedelijk wel akkoord met wat je bedacht hebt. 🙂
Over mij als DM:
Ik DM inmiddels 'n jaar of anderhalf, en speel een jaar of vier. Ik ken nog niet alle regels haarfijn uit m'n hoofd en zal zo nu en dan nog wel eens wat moeten opzoeken of navragen. Echter met een achtergrond in improvisatietheater en stand-up comedy is mijn stijl als DM sowieso grotendeels improvisatorisch en theatraal van aard. Verwacht een breed scala aan typetjes met gekke stemmetjes en nog gekkere namen, afgewisseld door over-the-top filmische actie en avontuur. DnD is een manier om je wildste fantasieën tot leven te laten komen en wie ben ik om daar geen gehoor aan te geven. 
Houd er daarom rekening mee dat ik "entertainment" het belangrijkste vind aan mijn tafel. De prioriteit is plezier hebben en ongeacht de wat "duistere" aard van dit verhaal heb ik het liefst dat er gelachen wordt en de stemming lekker luchtig blijft. 
Ik ben verre van een "rules lawyer", ik ben zelfs wel te omschrijven als een aanhanger van "the rule of cool". Dat wil niet zeggen dat ik zomaar alles goedkeur, maar als mijn spelers hun acties of woorden goed onderbouwen ben ik niet vies van (kleine) uitzonderingen maken op de regels zoals ze geschreven zijn. 
Het is 'n one-shot. Laten we het vooral spectaculair maken. Speel jij dus liever met iemand die zich perfect aan de regels houdt dan is mijn tafel misschien minder leuk voor je. 
Lang verhaal kort: mijn tafel is voor mensen die graag een vermakelijk verhaal mee willen maken. Improvisatie (zowel in als buiten combat) wordt eerder beloond dan gestraft. Actief roleplay (spelen met stemmetjes, persoonlijkheidstrekken, etc.) zou ik fantastisch vinden- het is uiteraard niet verplicht, maar ik doe het zelf wel. Laten we vooral gewoon wat leuks doen met de korte tijd dat we samen zijn. De meest memorabele sessies worden gevormd door mensen, niet dobbelstenen. 
Live gameroom 2 10:00 - 13:00
System: When the End comes
Max players: 6
Newbie friendly: Yes
Language: English (Dutch explanation possible)
Note: 18+ game due to horror

Your heart is in your throat and you try not to scream. You're safe, for now. He cannot find you here, can he? They are dead, they are really dead. Are you next?
You see a shadow pass the door of the closet you are hiding in. A floorboard on your left creaks slightly and your heart stops when a large and bloody knife crashes through the closet door. Is this the End?

When the End comes puts your character in those situations you see in horror movies and of which you say to yourself that you will never end up in a similar situation. Try to stay out of the hands of those who want to hurt you. Survival gets harder the longer you last. Being killed doesn't mean the end. Ghosts can be helpful. Or your worst nightmare. Your fellow victims can be allies. Or your worst enemies.

The character creation will be done collectively. It's an easy and fast process. 2 options:
Or we will make the victims, sorry… characters, before the con in a short session 0 via Discord in which we will discuss the setting, the relationship between the characters and safety tools I'll use at the table.


Or we will create the characters and relationships at the table at the start of the session.

Live gameroom 2 10:00 - 13:00
Live gameroom 2 14:00 - 17:00
System: DnD 5e Rick & Morty
Max players: 6
Newbie friendly: Yes
Language: Dutch (Nederlands)
Preparation: Premade character will be offered
Wubba lubba dub dub!!!
Join Dungeon Master Rick Sanchez (Sky from the D&D stream DutchDungeons) and take on the role of Morty, Summer, Beth or that f*ing Jerry to experience a D&D 5th edition dungeon crawl full of butt jokes and weird riddles.
The adventure has premade characters to choose from and an experienced DM who gives a short explanation at the start.
Perfect for players who are looking for a first D&D experience or fans of the Rick & Morty series.
Live gameroom 2 10:00 - 13:00
System: Pendragon
Max players: 5
Newbie friendly: Yes
Language: English/Dutch

You and your kin have finally returned to your ancestral lands, after 20 years of exile. You now live in the old land of the Iceni again, and the Saxons (or Angles, as they call themselves) are now both subjugated to you, and driven from your former lands. However, all is not well. Although you live in your former homes (as far as they survived the intervening years), the Saxons are restless, because your Duke mercilessly taxes them, and any resistance is brutally suppressed. Now an ancient spirit troubles your dreams, and those of your kin, calling you to lay her to rest, as foreign magic has raised her from eternal sleep. Your liege, who is also your uncle, and, like you, beset by these dreams, has requested you to go, and solve this problem
Live gameroom 1 14:00 - 17:00
System: Masks; a new generation
Max players: 5
Newbie friendly: Yes
Language: English OR Dutch


Live gameroom 2 14:00 - 17:00
System: The One Ring
Max players: 6
Newbie friendly: Yes
Language: Dutch (NEDERLANDS)
It is the year 2965 of the Third Age and the Shadow is returning. Twenty-four years ago, an alliance of Elves, Men, and Dwarves defeated a horde of Orcs and Wild Wolves, under a sky darkened by Giant Bats, inaugurating a new era of prosperity for the Free Peoples.
But twenty years is a long time for peace to last, and in many dark corners of the earth a shadow is lengthening once again. Rumours of strange things happening outside the borders of civilised lands are spreading with increasing regularity and, while they are dismissed by most as fireside-tales and children's stories, they sometimes reach the ears of individuals who recognise the sinister truth they hide.
These are restless warriors, curious scholars and wanderers, always eager to seek what was lost or explore what was forgotten. Ordinary people call them adventurers and, when they prevail,
they hail them as heroes. But if they fail, no one will even remember their names.
This is The One Ring, a roleplaying game based on The Hobbit™ and The Lord of the Rings™, two extraordinary works of fiction by the beloved author and respected academic, John Ronald Reuel Tolkien. With these books, Tolkien introduced readers to his greatest creation, the world of Middle-earth, a mythic land from a remote past. With The One Ring, Middle-earth is yours to explore — you will travel the land searching for clues about the return of the Shadow, and have the chance to play a part in the struggle against the Enemy…
Live gameroom 2 10:00 - 13:00
System: Ten Candles
Max players: 5
Newbie friendly: Yes
Language: English

Ten Candles is a zero-prep tabletop storytelling game designed for a one-shot  of tragic horror.
Ten Candles is described as a "tragic horror" game rather than survival horror for one main reason: in Ten Candles there are no survivors.
In the final scene of the game, when only one candle remains, all of the characters will die.
In this, Ten Candles is not a game about "winning" or beating the monsters. Instead, it is a game about what happens in the dark, and about those who try to survive within it. It is a game about being pushed to the brink of madness and despair, searching for hope in a hopeless world, and trying to do something meaningful with your final few hours left.  
The setting of Ten Candles will change game-to-game as the gamemaster selects different "modules" to run for an ever-changing lineup of doomed characters and scenarios for them to play within. The monsters you're facing will change every time you play as well, allowing every session of Ten Candles you play to be unique and to present an entirely new tragic story for you to tell.
GM Markus - The Chindividual
Live gameroom 1 10:00 - 13:00
System: Laser & Feelings
Max players: 4
Newbie friendly: Yes
Language: English (Dutch Explanation possible)

You are the crew of the interstellar scout ship Raptor. Your mission is to explore uncharted regions of space, deal with aliens both friendly and deadly, and defend the Consortium worlds against space dangers. Captain Darcy has been overcome by the strange psychic entity known as Something Else, leaving you to fend for yourselves while he recovers in a medical pod.
What happens next? Play to find out!
If you like to read into the rules click here.
Live gameroom 1 10:00 - 13:00
System: Monster of the Week
Max players: 5
Newbie friendly: Yes
Language: English

Most people don't believe in monsters, but you know the truth. They're real, and it's your task to bring them down. This revised edition of Monster of the Week brings that adventure to life.
Monster of the Week is a standalone action-horror RPG for 3-5 people. Hunt high school beasties a la Buffy the Vampire Slayer, travel the country to bring down unnatural creatures like the Winchester brothers of Supernatural, or head up the government investigation like Mulder and Scully.

More information about the monster of the week on RINCON will be here soon.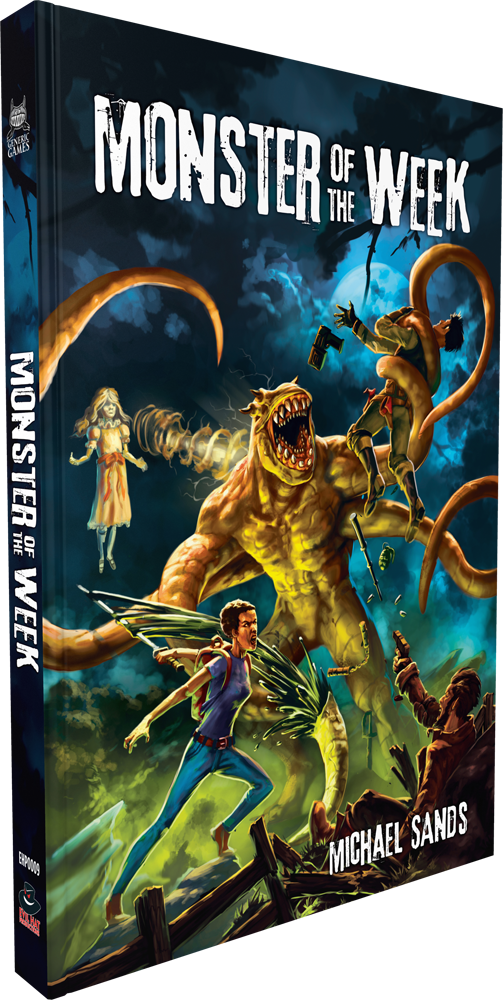 Live gameroom 1 14:00 - 17:00
System: Call of Cthulhu
Max players: 6
Newbie friendly: Yes
Language: English

Not all is well at Danvers State Lunatic Asylum and it's down to the investigators to heed a friend in need's cry.
Call of Cthulhu is Chaosium's tabletop roleplaying game of mystery and horror set within the world of the Cthulhu Mythos. Players take on the role of investigators of the strange, arcane, and unknown: regular people taking a stand despite the cost to body and soul. Against weird cults, bizarre magic, and otherworldly monsters, only they can save humanity and the world from the terrors from beyond.
In Genius Loci, the investigators explore the Danvers State Asylum in a desperate attempt to help a friend in need.
Join the Discord == Select role: Player-on-con== to get acces to channels for each live game. 
So you can chat with others, create characters and ask the GM something!